General Contractor Services
Hillcraft works with many general contractors both local and across the country. Each project can be unique and general contractors select Hillcraft because they know we are committed to making the project a success.
In the competitive world of construction Hillcraft works to be the first and best choice for general contractors looking for a genuine partner.
Hillcraft is a member of The Association of General Contractors of Wisconsin.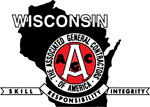 Many general contractors seek out Hillcraft year after year based on the results we deliver. Below is a collection of general contractors we've developed and maintained a long-term working partnership with.